Hi member's,
After the long wait, taking my time, finally here is my project thread, i hope you enjoy

I bought this car back in 2007, before buying it i checked it over with a fine tooth comb, to make sure it wont cost too much work/money to get it in the condition i wanted back then. Its been over 4.5 years to get it where it is today, almost brand new, which wasn't my original plan.
Ive had a few other 205's and gti's in the past, this is by far the best example ive had. This 205 gti came with the engine and carbs already fitted, it wasn't a bad job, none of the tilting of engine and such like. However since ive been on here i have seen far better engine conversions. This is what gave me the motivation to do what's been done.
I was originally going to pay someone to fit a VTS/GTI6 engine in, i got a few quotes/reviews and decided to try and do it myself. Since then my plans changed quite a bit, from just wanting a new well working engine to a complete overhaul restoration.
I bought the car which already had the old 405 2.0 engine with Dellorto carbs fitted, after some money spent on it i got it tuned at the rolling road and got them to sort the carbs out. It originally came around the 123 bhp with 143 torque, all in all it felt it had around the same sort of power as the original GTI engine would. It got tuned and managed to get 166 bhp with 171 torque, the engine's speed felt vastly improved

With this tuning, i went to Santa pod and tested my 1/4 mile times, i managed to get 15.8, first go. I then did another run that was slower, the first run was my first ever try at it BTW. After the second run there was a knocking sound and found the shells had gone awry. I replaced these shells with new ones and all was fine for a while until they went again. So with this engine all pretty much knackered, i decided to just get another engine and get fitted, oh how plans have changed since then
It took two more years till i found the one i wanted.
Here is the car just before it was sorned off the road at the end of May 2007 >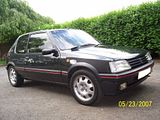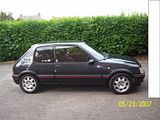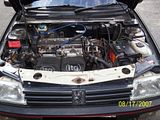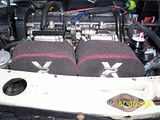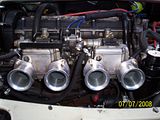 Here are the scanned rolling road data sheets. Also a picture of my best Santa pod 1/4 mile time, i thought it was 15.4 not 15.8, oh well i know now
Not the best quality but enough to see the results >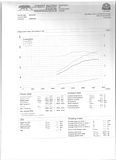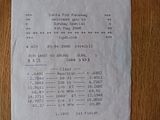 Even though i thought it best to join the photobucket pro for £1.92 one month, it made loading a little easier but i still kept getting problems, took ages to sort this out today

The project has taken a looong time, mostly due to funds, time, collecting information/research and the parts i wanted for this project, as well as the family commitments etc. I wanted to do it as well as i possibly could. I had to buy a lot of tools and parts etc. Its been on and off during this time. At first it was very slow progress due to the amount of work that was planned, which was a bit daunting due to this being my first full project. I went for the VTS engine and box which i read was the better box, much like the ratios of the MI16, i sold the 1.9 one the old engine had to Miles. I also sold the engine back in 2007 for around £100 on ebay.
I know some may say all that overhauling and im not fitting an original engine in, well thats what i want, a newer more powerful engine where parts are easily available for it (maybe ITB's or high boost super charger, in time). This car will mostly be used as a semi track toy/fast road car, maybe the occasional show. I will be getting coil-overs with the right settings to cope with the extra 20kg this engine has compared to the 1.9 engine.
I did make a few mistakes along the way, i have learned a hell of a lot too during this time, i only use to just fix my cars for use, basic stuff really. This car will have as much originality as i can fit even with this engine as it's heart.
I shall update this thread as soon as i can, i hope you enjoy it and thanks for looking

George.