Well i thought i may aswell put up some pictures of my sorrento project. The car was owned by a guy i went to school with and his family owned it for 7 years. It is a 1993 1.9 with the very late cat engine with plastic inlet. It was passed through various family members until my mate got it, used until the MOT ran out on day. The car was then left to rot on his dad's driveway underneath a sycamore tree which as you can imagine made a right mess of the bodywork.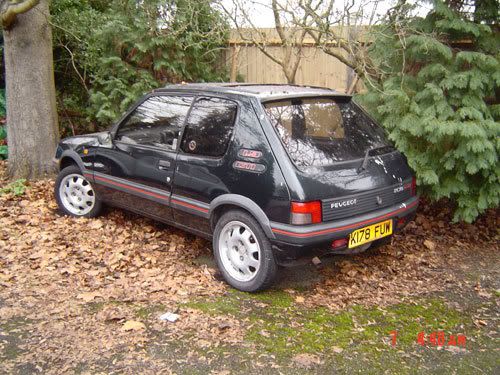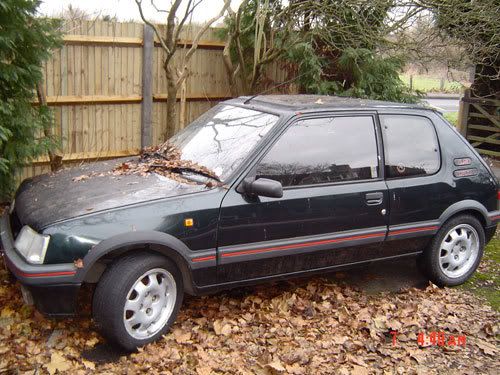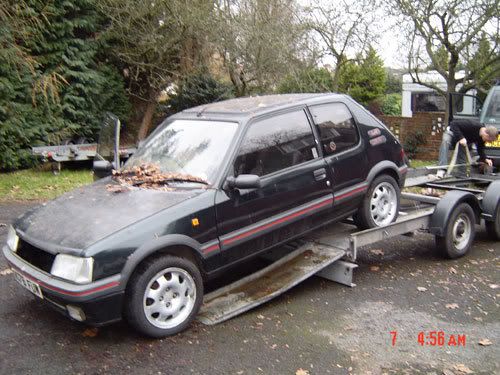 I would drive past his house and see it every day for about a year until i plucked up the courage to knock on the door and ask them if I could put the car out of its misery and buy it. Chris (my mate) owed his dad some money so I bought it as a non runner for £400. Most of the top of the engine was in the boot as his dad was going to strip it all down and rebuild it although it didn't need it and he lost interest. So the sale had been agreed me and another mate picked it up on his trailer and took it down to his unit where it would be stored for 8 months while I was away in Australia and Thailand traveling. So while it was out we gave it a quick wash to remove most of the leaves and moss just to try and preserve the bodywork while i was away.
http://img.photobuck...P205/green4.jpg
http://img.photobuck...P205/green5.jpg
http://img.photobuck...P205/green6.jpg
The car had only covered 83k which in 205 terms is quite low. My plan was to completely strip it all down and rebuild it as a standard car. But while i was away i changed my mind after seeing Maxis GTi6 converted cab
on the forum. So while I was in Thailand i emailed a few salvage companies and secured a GTi6 engine from a rear ended s plate 306 which had only covered 22k. The engine came with all the relevent parts manifolds, loom , ecu etc etc.. So by the time I came back from my travels I was really skint but had plenty to do on the 205. I had the car returned to my parents and I started work on it. I sorted the 8v engine so I could prove it was a good runner and sold that to forum member on here. Once back and ceaned up a bit the shell turned out to be in pretty good nick.
http://img.photobuck...P205/green8.jpg
http://img.photobuck...P205/green7.jpg
http://img.photobuck...205/green10.jpg
Once I proved the engine was a good'un i stripped it out and began stripping the rest of the car.
http://img.photobuck...205/green12.jpg
http://img.photobuck...205/green13.jpg
http://img.photobuck...205/green14.jpg
The interior is in really good condition with the rear leather seats like new. As its a sorrento it comes with the green carpet and late green door cards which look tasty.
http://img.photobuck...205/green17.jpg
http://img.photobuck...205/green18.jpg
So with the car now basically stripped for a re-spray i could see how bad the lacquer peel and paint fade had become. Lacquer had peeled on the roof, the bonnet and the wing. It also needed a new passenger wing as the original had a nasty dent. There was also some rust under the bonnet which needed attention. Apart from that though unlike many phase 2 cars this had survived really well considering it hadn't been driven, washed or generally looked after for over 2 years.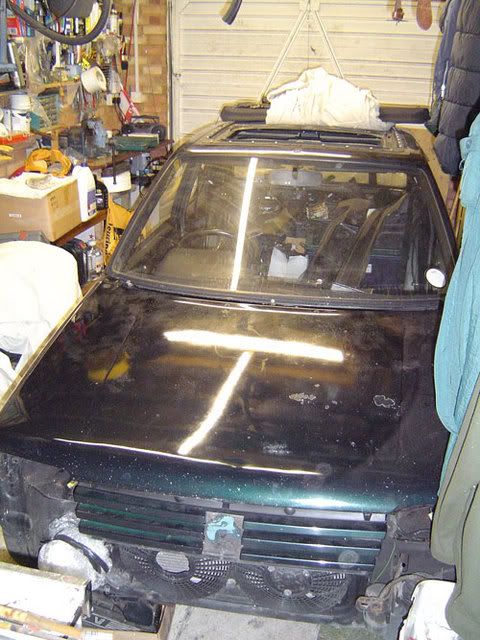 http://img.photobuck...05/DSC00006.jpg
http://img.photobuck.../DSC00008-3.jpg
I also needed to get some quotes for a re-spray and the cheapest I could find round my way was £1500 and that didn't include any work on the new wing. So I spoke to Andy (paintguy on here) He quoted me just over a grand including the wing so I thought as I was going to the expense of taking the car to Sheffield I may as well go the whole hog and have the engine bay sorted, rear panel smoothed, the boot floor painted and have the sunroof taken off and replaced with a peugeot non sunny roof skin

Andy, if you've never spoken to him is the most easy going fella you can meet. I first noticed him when he posted up his Topaz thread and showed what time and patience he gives to his trade. I hinted in my replys that i might one day use him for paint work. He quite happily took more work on as we spoke about the project. He talked me through the bodywork process and showed all the enthusiasm I needed to convince me to take the car all the way North! He even asked me to bring more parts such as a spare front and rear valence and a spare grill to be painted while he had the 'paint in the gun'. So on a rainy morning one winters day me and my 205 friendly neighbour drove her on the back of trailer up to sunny Sheffield.
http://img.photobuck...05/DSC00002.jpg
http://img.photobuck.../DSC00003-1.jpg
http://img.photobuck.../DSC00004-1.jpg
http://img.photobuck...05/DSC00005.jpg
http://img.photobuck...31/ewP205/2.jpg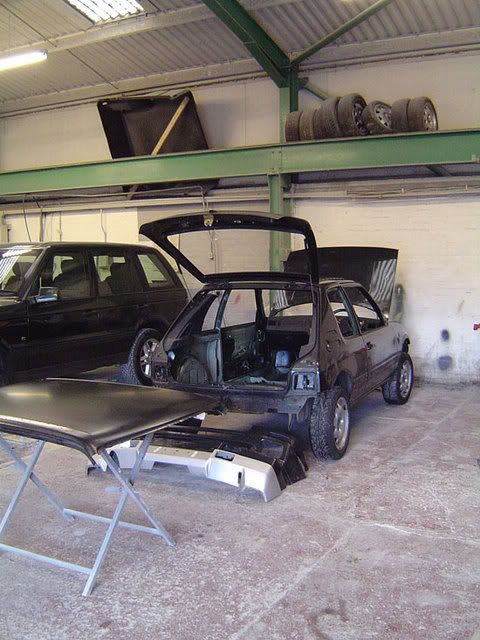 Edited by Edp, 29 September 2007 - 11:00 PM.