Some of you may have read this thread.
Another 205 was offered to me at a fair price, it hadn't moved for 18 dry stored months and I was finally able to buy back the salvage of G692EPC.
I was initially looking for a Sorrento or Laser green but I was contacted and offered this car,

I found the new car like this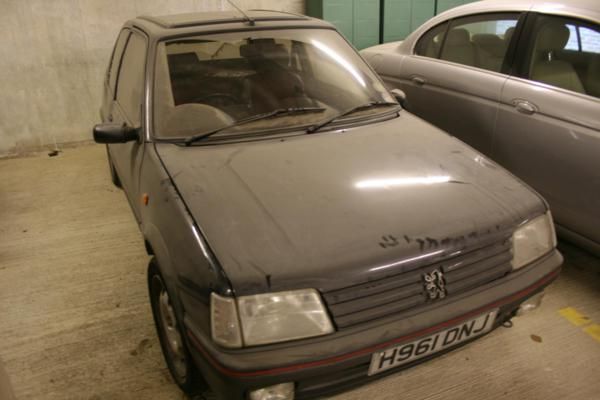 A quick check over of the normal rust spots was all I needed - this car was in good condition and only a totally standard 85k miles old. There were a couple of little issues but to be honest I wasn't too bothered as those bits were going to be removed.
It hadn't started in over a year so we removed the plugs, stuck in a battery and cranked her over. Well that all worked nicely. Put the plugs in tried again and she fired within about 2 seconds. Success - so my plan of driving it back as opposed to trailer was looking good.



I returned a week later and drove it back the 20 odd miles or so to my house. I'd not driven an 8v for about 4 years so it was quite amusing (spelt:stalling). Got quite a few looks as I'd not cleaned the car at all and it was really covered in a lot of cement dust. One thing I did come to identify was that the brakes were not all that hot. Perhaps I was used to my old HDI calipers or the rear brakes weren't working.
The MOT I had booked it in for that day comfirmed that the rear brakes were not really doing much - I suspect the compensators needed changing.

Anyway safely home and no MOT - well I was hoping to get the car ready to chip over to France the following week. My plan initially was to fix her up and drive the 8v around for a bit of fun. But then I realised I should just get on with the reshell. So, I took the next few day of work and started.....

I hired in a crane for the week and started by removing the 8v engine from H961.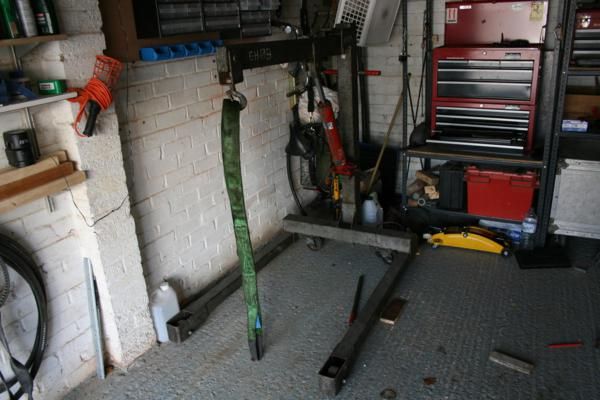 So into my garage for a week of spanner wielding - my girlfriend had also gone away so I was able to get on with quite a bit of car work.

I actually found something of use in the Haynes manual too....get some old 4mm gauge steel rod and make a pair of U-shaped brackets to keep the bonnet propped up. Amazing in 9 years of ownership I never new this existed!!


I decided to strip the ancilleries from the 8v block just so I could get it out easily. Inlet & exhaust manifolds were off along with the starter and alternator. Driveshafts and mounts all came off pretty easily - scarily a few nuts and bolts were a little too easy to undo.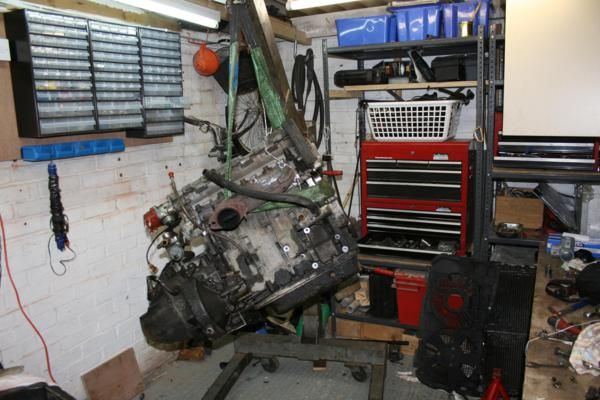 Bye bye 8v


Next installment to follow.....
Edited by Simes, 19 June 2013 - 07:56 PM.