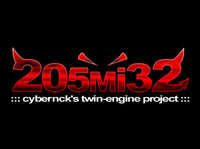 well, it was about time i started a radical project really

.
the project is now well under way, but i've really not had any spare time to properly post about it,
but now the time has come and i will quickly bring you back up to spec as the cold weather is not
really allowing for any serious work to be carried on the car anymore. i am going to present the
work in a few seperate phases as it has been / will be done in.
i am not going to hide "the juicy details" and things that have had a lot of mental energy put into, in order
to make it harder for other people to replicate. instead, i'm going to show every single documented step
to inspire and make it easier for anyone interested in doing the same type of project in the future!
first a little bit of background - the car started life as a 1987 205 1.6 GTI, my father bought it in 1997
after years and years of us daydreaming of having a 205 GTI one day
. after a while when we got
used to the performance, we were sad it was only a 1.6 and not a stronger 1.9. but since i bought a 1.9
to replace my 1.6 (that we also got in 1998 or 1999) and after seeing a dutch story on Mi16 conversion,
we sat our heart on the Mi16. we had finally found a good engine and did the swap in the late 2000 (iirc).
the next logical step was to start using the car properly, which meant stripping it out, installing a custom
roll cage in, upgrading the brakes to the large 283mm Xsara VTS setup, replacing 205's suspension with
a complete set of 309 GTI's and only making a short gearbox with custom ratios. father then started
racing in hillclimb and trackracing championship as well as autoslaloms in 2002.
to cut the story short, after several years of actively participating in nearly every race and wining quite
a few trophies, that excercise had to come to the end, in 2005. we were left with a car that had seen
better days and needed a lot of work to be brought back up to it's former glory.
at the same time, the local StreetRace (drag racing) scene had started actively developing and got our
attention, so after some (read: a lot!) of thoughts and discussion, we came to a conclusion that our
205 Mi16 would be a perfect candidate... for something radical! it came down to an idea i've had about
5 years ago - the twin engine setup! back then it sounded really stupid and impossible and made me think
Turbo + 4wd was the way to go (hence why i got my 405 T16) but in early 2006 we started thinking about
the twin engine conversion very seriously!